ANNE FINE
This is the official web site of Anne Fine, the second Children's Laureate and a distinguished prize-winning writer for children of all ages, with over forty books to her credit. She has also written for adults to considerable critical acclaim. This site has news and information about Anne, and showcases her books.
The True Story of a Magic Ball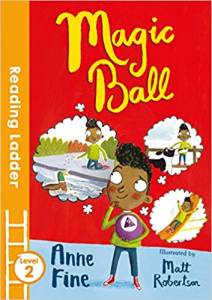 Anne Fine explains the true story behind the book:
One of my grandchildren went through a very tiresome stage of being almost pathologically indecisive. He couldn't decide if he wanted sauce on, or beside, his pasta; the chocolate or the vanilla; the blue shirt or the grey.
You weren't allowed to pick for him. "I'm old enough to choose for myself!"
But he just couldn't. He got so horribly frustrated, everyone felt so sorry for him - even his exasperated parents.
"Let us choose for you." "No! I want to choose!"
"Well, do it, then. We haven't got all day."
"I'm trying. I just can't."
On and on, as often as not along with wailing and tears.
Then someone bought him one of those toy fortune-telling balls. They have a dozen assorted answers floating around inside. You ask it a question, shake it, and read whatever floats up to show in the window at the top.
It was astonishing how often the answer that floated to the top seemed to satisfy Robbie.
"Do I want to go to the park?"
No.
"Well, do I want to go to the playground?"
Maybe.
"If I go, will I have a good time?"
Definitely.
It worked a treat. Though Robbie knew the ball wasn't magic, just a clever toy, he completely relaxed. Sometimes he did what it suggested. Sometimes he didn't, presumably because at heart he knew it was giving him an answer he didn't want.
The Magic Ball did seem, in a rather strange and unhinged way, to work as a cure. His indecisive stage was very funny, even if tiresome. But how it came to an end was even funnier.
Magic Ball is illustrated by Matt Robertson. It was published on 7th September 2017 as a Level 2 Reading Ladder title, perfect for readers who are growing in confidence and are beginning to enjoy longer stories - and if you want to know how the story ends, you'll have to read the book to find out!
La Chat assassin fête ses vingt ans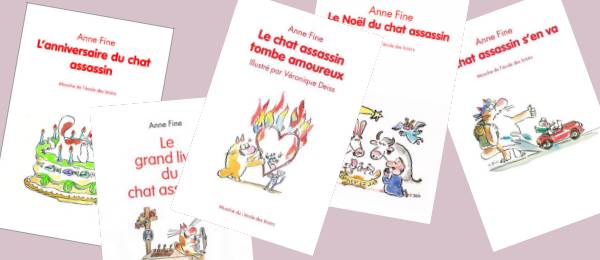 "It's extremely hard to believe," says Anne, "(because my bad feelings about the Killer Cat are still fresh and raw) but this year is the twentieth anniversary of his publication in France.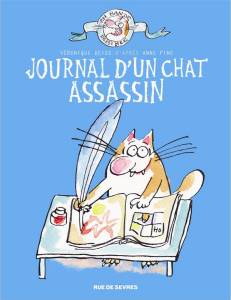 "We're all going to celebrate!"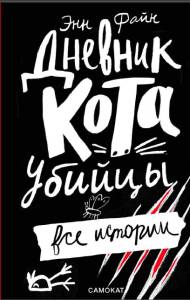 So Anne has been in Paris, meeting readers at the at the Montreuil Book Fair - including readers of an adaptation of the Killer Cat into comics (pictured right) by Veronique Deiss, inspired illustrator of the 'Chat assassin' series! - and presiding over a Joute de traduction (a 'translation joust') a translation competition of a few pages that none of the competitors has ever seen before (written by Anne and from a book soon to be published). But, she told us before she set off, "what Tuffy is most looking forward to is the Celebration Party at the British Embassy on Thursday. And so am I."
Tout sur le chat assassin - en français
Tuffy's travels go far beyond France, though: he has fans in Italy, Germany, Spain, Iceland, China and more... (The cover on the left is the Russian omnibus edition!). Not forgetting the English language editions! Learn more about Tuffy here.
Celebrating 80 Years of the Best Books
This year, the Carnegie Medal celebrates its eightieth birthday - that's a whole lifetime of rewarding the best children's books!
Anne explains "The Carnegie Medal honours the Scottish born philanthropist, Andrew Carnegie. He's the great man who endowed so many of our public libraries, and rather wonderfully said, "To die rich is to die disgraced." The prize was established in 1935 by the Library Association, and is still considered the most prestigious award an author for children or young adults can win. (I can't describe to you how proud I am to have won it twice.)"
Join the party at the My Home Library website, which Anne Fine set up when she became Children's Laureate, to make it easier for everyone to have their own Home Library. She will focus on the winning books over the last 80 years: she says "you might spot them in libraries and bookshops, maybe? take a peep? After all, each was considered the very best book of its year."
On March 2nd - World Book Day! - she started looking at a decade a month, and now she has nearly reached the present day! Have a look, for suggestions about books to look out for, and maybe add to your own Home Library.
Honorary Degrees
And speaking of awards, if you've ever looked at Anne's Awards and Honours page, you'll know that as well as those two Carnegie medals, and lots of other prizes for one book or another in particular, she has been awarded several honorary degrees. In fact, she started 2017 with a degree ceremony at the University of Leicester, where she was presented with a fourth Honorary Doctorate. What's it all about? Anne explains: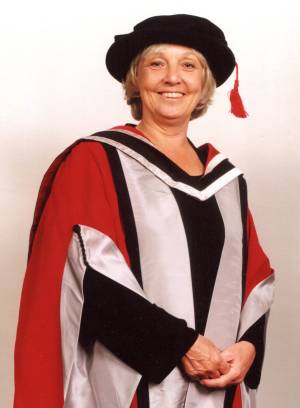 I never really grasped the point of 'honorary' degrees. After all, either the recipient knew enough to get a 'real' degree, or they didn't. Why offer one to someone who hadn't done the work?

Now I have several, I feel a good deal differently. I've realised that, as almost everyone goes through their professional life, the people around them can't help but form a view of their body of work. And if that's a positive opinion, and a prestigious institution chooses to make it both plain and public, that's inspiriting and encouraging. (After all, everyone who works hard asks themselves from time to time, "Has all this effort been worthwhile?" So it's immensely cheering to be told so openly, "Yes. Yes, it was.")

What pleases me most is that I have links with almost all the places that have honoured me. I was born in Leicester, and last week that city's university awarded me an honorary doctorate. I studied at Warwick, where I was given another some years ago. Ever since I moved to the north east, and found out how much I loved it here, I've spoken up for the area. So it was lovely to be honoured by the University of Teesside. My secondary schooling was all in Northampton, so I am especially proud of my honorary fellowship from that university. And growing up there turns me into a woman from the Midlands, so I'm proud of my doctorate from the University of Central England in Birmingham.

(Just for the record, you're given a beautifully designed degree certificate in a classy holder. And they take photos of you in the fancy official university robes and cap - I'm much less keen on those!)
---