THE TULIP TOUCH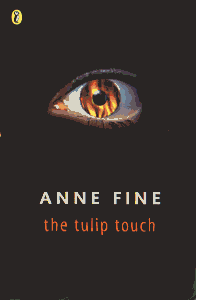 She's mad. There has to be something wrong with her. She's insane.

Nobody wants Tulip in their gang. She skives off school, cheeks the teachers, and makes herself unpopular with her classmates by telling the most awful lies.
None of this matters to Natalie. Natalie finds Tulip exciting, and at first she doesn't care that other people are so upset and unnerved by Tulip's bizarre games like Stinking Mackerel and Road of Bones. It's funny to watch their reactions, and there's always the delicious fear that the two girls might be caught. But as the games become increasingly sinister and dangerous, Natalie realizes that Tulip is going too far. Much too far.
Winner of the Whitbread Children's Book of the Year
Highly commended for the Carnegie Medal
Shortlisted for the Sheffield Children's Book Award, 1997.
Runner up for the Lancs Library Children's Book of the Year
Wirral Paperback of the Year, 1998.
Federation of Children's Book Groups Pick of the Year, 1996
Shortlisted for West Kent Schools Themed Book Award 2009
In the USA, The Tulip Touch was chosen as an ALA Notable Children's Book; the Booklist Editor's Choice - "Top of the List" Fiction; Bulletin, Blue Ribbon List, 1997; School Library Journal's "Best Books of '97"; River Bank Review "Children's Book of Distinction", Arizona Library Association Young Readers Award 200 Nomination.
---
---
The Tulip Touch by Anne Fine is a novel for older children. It was first published in 1996, and is currently available in the following editions (Click the link to buy the book from

), or use the ISBN to help your local bookshop or library to order it for you:
---