ANNE FINE
This is the official web site of Anne Fine, the second Children's Laureate and a distinguished prize-winning writer for children of all ages, with over forty books to her credit. She has also written for adults to considerable critical acclaim. This site has news and information about Anne, and showcases her books.
Honorary Degrees
If you've ever looked at Anne's Awards and Honours page, you'll know that as well as lots of prizes for one book or another in particular, she has been awarded several honorary degrees. In fact, she started 2017 with a degree ceremony at the University of Leicester, where she was presented with a fourth Honorary Doctorate. What's it all about? Anne explains: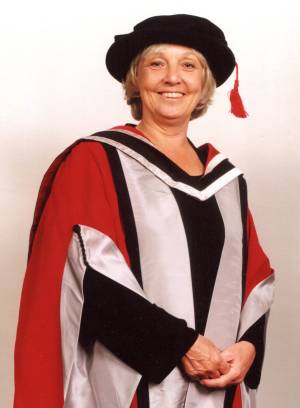 I never really grasped the point of 'honorary' degrees. After all, either the recipient knew enough to get a 'real' degree, or they didn't. Why offer one to someone who hadn't done the work?

Now I have several, I feel a good deal differently. I've realised that, as almost everyone goes through their professional life, the people around them can't help but form a view of their body of work. And if that's a positive opinion, and a prestigious institution chooses to make it both plain and public, that's inspiriting and encouraging. (After all, everyone who works hard asks themselves from time to time, "Has all this effort been worthwhile?" So it's immensely cheering to be told so openly, "Yes. Yes, it was.")

What pleases me most is that I have links with almost all the places that have honoured me. I was born in Leicester, and last week that city's university awarded me an honorary doctorate. I studied at Warwick, where I was given another some years ago. Ever since I moved to the north east, and found out how much I loved it here, I've spoken up for the area. So it was lovely to be honoured by the University of Teesside. My secondary schooling was all in Northampton, so I am especially proud of my honorary fellowship from that university. And growing up there turns me into a woman from the Midlands, so I'm proud of my doctorate from the University of Central England in Birmingham.

(Just for the record, you're given a beautifully designed degree certificate in a classy holder. And they take photos of you in the fancy official university robes and cap - I'm much less keen on those!)
Ghost Stories for Every Reader!
Anne believes that everyone adores ghost stories. "Everyone needs a good shiver now and then," she says. "But the problem for some young readers is that they can find the descriptions that make up a creepy atmosphere a little too challenging to read. I thought I'd have a go at writing a set of stories that were dead simple to read, but still did that make-you-shiver trick."
So, in Tales from Weird Street, three young friends in turn tell their creepiest stories. Tom recounts the tale of a strange, old-fashioned photograph that predicted the future far more than it represented the moment it was taken.
Laila explains how what an awkward customer in a Chinese restaurant found in his fortune cookie should have been more of a warning.
And Asim passes on an account of how a mysterious visitor to a local shop turns out to be linked to a series of very strange dreams.
Tales from Weird Street was first published on February 15th 2017; read more about it here.
Fair's fair. Isn't it...?
Megan and Tory have never seen eye to eye. They may be born of the same mother, but that's where the common ground ends. Goal-orientated Megan runs a successful business and keeps her house in pristine condition. Tory is easy-come, easy-go, and neither she nor her husband have ever bothered to hold a real job for long. But when the Grim Reaper steps closer, the sisters need to put their differences aside to deal with doctors, the hospice, a funeral - and THE WILL.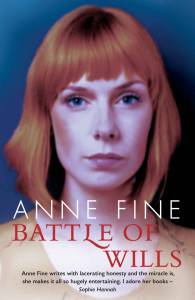 In Battle of Wills, Anne Fine puts a spotlight on family dynamics in her charateristic realistic and humorous way: but what made her think of such a dark subject? Anne explains: "A novel so often comes together when far-flung ideas merge. Battle of Wills, my most recent domestic black comedy, was kick-started when I mentioned to a friend that my mum is buried in a particular cemetery. 'Ditto mine,' he said, and went on to tell me about the astonishing altercation he'd had with his sister over the open grave. He told the story with such colour and relish that it was unforgettable.
"A few years later, flicking through the Money section of a Sunday paper, I noticed a response to a reader's 'problem' that was little short of scathing. Financial columnists usually appear to me to spoon out sympathy and advice to people who have lost comparatively tiny amounts of money. So, curious, I read the reader's original complaint and tried to imagine the sort of person who might have felt strongly enough to have written it.
So Battle of Wills was born. Most of us have a healthy respect for the concept of 'right' and 'fair'. For Megan, it is an obsession. Her sister Victoria takes a much slacker view of things. I suppose it all proves one thing: Where there's a will, there's a way - if only for sisters to fall out."
Anne has more to say about writing books for adults here.
Madame Doubtfire: a modern classic
Every author secretly hopes each book they write will turn into 'a classic' - a book loved by many over a long period of time" says Anne.
"So it's a huge boost to find my novel Madame Doubtfire out on the shelves this month in a brand new format and with a gorgeously appealing new cover by Mark Beech (on the right in the montage above).
So many people of all ages love this book. I think that's because it deals so honestly with a very real family in a very difficult situation. It doesn't try to hide the problems of separation and divorce. It faces up to the ugly emotions that can so easily surface when the happy and settled life everyone in the family had hoped for hits the rocks.
But the comedy keeps the topic bearable, and the story ends with a sense that things can, and will, get better for everyone. It's a message so many people have needed since the book was first published in 1987. I'm proud it has become a Puffin Modern Classic. It's a lovely fresh facelift I hope will bring in a whole new generation of readers.

Listen to Anne on Woman's Hour talking about the new Puffin edition of Madame Doubtfire, reading, writing and who looks after the cello.
Read more about Madame Doubtfire.
Sixteen Sisters
When Anne was offered the chance to retell three classic English fairy tales, she found herself choosing three stories with something in common.
Sisters may be related, but they certainly aren't always alike; Drusilla and Isidora are like chalk and cheese, and receive very different enchantments in the story Diamonds and Toads.
Snow White and Rose Red tells of two sisters whose beloved bear turns out to be something quite different...
What if you had more than one sister? What if you had twelve? Twelve princesses share a love of dancing, to their father's despair. Will anyone be able to uncover their secret night-time escapades?
Sixteen Sisters is published in the TreeTops Greatest Stories series, offering children some of the world's best-loved tales in a collection of timeless classics. Each book contains inside cover notes to help children explore the content, supporting their reading development. Teaching notes on Oxford Owl offer cross-curricular links and activities to support guided reading, writing, speaking and listening.
Prix Sorcières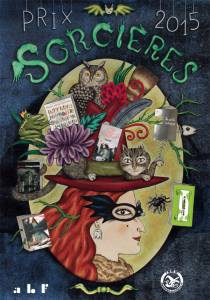 Anne was delighted to learn that Le Passage du Diable (the French translation of The Devil Walks has won the Prix Sorcières in the Older Readers category. The announcement praised the book, saying "Anne Fine, flirtant avec les genres fantastique et gothique, distille petit à petit une atmosphère mystérieuse et angoissante. La fluidité du texte emporte inexorablement le lecteur dans l'ambiance trouble et pesante des sombres secrets de cette maison de poupée..."
The Prix Sorcières is awarded by the children's literature specialists among the booksellers and librarians of France. Anne has already been a winner in a different age category, with Le Journal d'un Chat Assassin in 1998.
Read more about Anne Fine's books in France / Les Livres d'Anne Fine traduits en français.
The Killer Cat Runs Away
So what if I broke the new TV? Got fur on all Dad's clean clothes? Ate Tinkerbell the kitten's special kitten-food?
All accidents!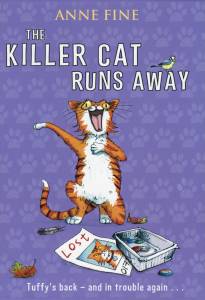 Meet Tuffy, the Killer Cat.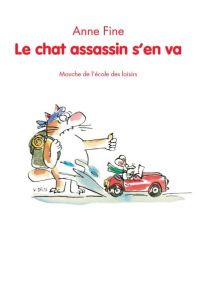 You thought you already had? Is that because you've read the books in which he causes such awful mayhem? Well, now he's back. Not spruced up, exactly. I wouldn't go that far. Steve Cox has handed over the illustrations to Thomas Docherty, so if you think that he looks a tiny bit different, you're right. But inside he's the same old Tuffy - driving Dad crazy, upsetting Ellie, and leaving the usual trail of chaos wherever he goes.
And in this book Tuffy does go a whole lot further than usual. Find out what happens when he decides there must be somewhere in the town where he'll be appreciated more, and treated better ...
The Killer Cat Runs Away now out in paperback!
Of course, in his own way, Tuffy is a very well-travelled cat. He has friends all over the world who want to keep up to date with his adventures. His latest escapade has already been translated into French, and there are Killer Cat books in German, in Italian, in Icelandic - and more!
---