GENIE, GENIE, GENIE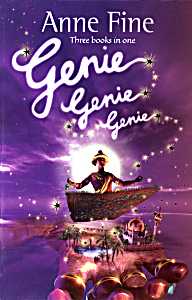 Anne Fine's three Genie books first appeared between 1989 and 1991. Now they are united in a single 160-page volume from Egmont, with the original line drawings by David Higham.
A Sudden Puff of Glittering Smoke
Jeanie finds a ring on her way to school. In the middle of class she gives it a rub and a genie appears on her desk.
Suddenly everything she wants seems within reach - until she finds that this is a grumpy genie with a very different view of the world from her own ...
A Sudden Swirl of Icy Wind
Banished to the junk room for upsetting his granny, William accidentally releases Mustapha the genie from an old bottle.
Mustapha tells William the exciting story of the brave seafarer, Captain Flook, a story which helps William to see that his grandmother is not as unfair as he thought ...
A Sudden Glow of Gold
Banished to tidy his cluttered bedroom, Toby comes across a forgotten brass lamp. He gives it a rub and out pops Hasan, a genie with a terrible temper and a craving for sherbert.
Together they board Hasan's flying carpet for a thrilling trip to ancient Arabia, where they discover that there's quite a difference between need and want.
---
A Sudden Puff of Glittering Smoke was first published in 1989, A Sudden Swirl of Icy Wind in 1990 and A Sudden Glow of Gold in 1991. The trilogy was first brought together in an omnibus edition with the title Genie, Genie, Genie in 1992. For children in the middle age range.
Buy Genie, Genie, Genie from

in the Egmont paperback edition, or ask a bookshop or library to find you a copy, (ISBN: 978-1-4052-1202-1).
The complete unaridged text is also available as a Chivers audiobook, under the title A Sudden Puff of Glittering Smoke and Other Stories read by Nigel Planer (published by Chivers, ISBN: 978-0-7451-4448-1). Order the audio edition from the Audiobook Store (on three audio cassettes), or download it from Amazon.
---