GOGGLE-EYES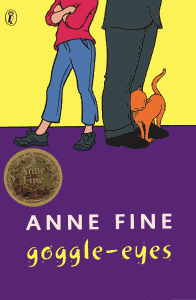 Why me?

Helen's in a bad mood. She won't speak to anyone. She has run off to the cloakroom in tears.
So why does Mrs Lupey send Kitty to sit with her? Liz is Helen's best friend.
But Kitty is not only a good story-teller, but also the World's Greatest Expert when it comes to mothers having new and unwanted boyfriends. particularly when there's a danger they might turn into new and unwanted stepfathersIt is available as an eBook from Penguin Books as an ePub eBook, or ...
N.B. The book isn't called Google Eyes or even Google-Eyes...
If that's what you typed, maybe you're spending too much time with internet search engines!

Winner of the Carnegie Medal in 1990
Winner of the Guardian Children's Fiction Award in 1990
Shortlisted for Smarties Award (9 - 11 section) 1990
Der Neue Diogenes, the German translation of Goggle-Eyes, was shortlisted for German Youth Literature Prize 1993 (Deutsche Jugendlitteraturpreis).
My War With Goggle-Eyes
Goggle-Eyes was published in the USA with the title My War With Goggle-Eyes.
American Library Association Notable Book
International Reading Association Young Adult Choice for 1991
School Library Journal Best Book of the Year
---
---
Goggle-Eyes, a book for older children, was first published in 1989.
---